Carl Schurz
Major General Carl Schurz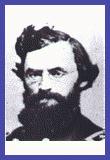 On the aftermath of Gettysburg:
"There can be no more hideous sight than that of the corpses on a battlefield, ...some lying singly or in rows, others in heaps, having fallen over one another, some in attitudes of peaceful repose, others with arms raised, others in a sitting posture, others on their knees, others clawing the earth, many horribly distorted by what must have been a frightful death-struggle. Here I stood on the ground occupied by my division during that murderous conflict, around me the dead bodies of men who, but three days ago, had cheered me when I rode along their front, and whose greetings I had responded to with sincere affection, the features of some of whom I now succeeded in recognizing after a painful effort; some officers whom I had known well, with whom I had talked often, and who now lay here, struck down in the flower of their young manhood, now horrible to look at like the rest- and over yonder, only a few paces away, some Confederate dead, whom their comrades had left on the field, now looking just like our men, and having in all probability died with the same belief in the justice of THEIR cause. Was it possible that any of them should have been sincerely convinced of the righteousness of the cause they fought for- the cause of slavery? I had to say to myself that it was possible, and in many cases even certain; for did I not know from history that in many religious wars men had cut one another's throats with the fierceness of fanatical conviction concerning differences of opinion on doctrinal points which to-day would call forth from any educated person only a smile of pity? I rode away from this horrible scene in a musing state of mind, finally composing myself with the reaffirmed faith that in our struggle against slavery we could not possibly be wrong; that there was an imperitive, indisiputable necessity of fighting for our cause; that the belief of the rebels in the righteousness of their cause might be ever so sincere, and they might individually deserve ever so much credit for that sincerity, but that their error stood offensively in the way of justice, and that their challenge had to be met."
...Carl Schurz
Reminiscences... Vol III, p 37-38.
Biographical Outline
Pre-War Life

Born in the Rhenish village of Liblar, near Cologne, Prussia, March 2, 1829
Recieved education at the Gymnasium in Cologne and at the University of Bonn
Served as a subaltern in the artillery during the rebellions of 1848. Was captured by the Emperor's forces, but managed to escape. Slipped nack into Germany to rescue Johann Gottfried Kinhel from Spandau prison in Berlin.
Fled to Switzerland, and later France, from which he was exiled as an undesirable in 1851. Then lived in England
Came to the United States in 1852
Lived in Philadelphia
Tought himself English from reading newspapers and novels. Made speeches in both English and German on a wide variety of subjects, and gained a keen interest in politics, and especially the anti-slavery cause.
Moved to Wisconsin in 1856, hoping it would be a way to enter politics. Purchased a farm near Watertown.
Became an anti-slavery Republican. Ran unsuccessfully for the lieutenant governor of Wisconsin. Campaigned for John C. Frémont in 1856 and for Abraham Lincoln in 1860. Became a nationally known figure in the new party, and was especially respected for his own oratorical skills as well as the important immigrant vote that he was supposed to be able to attract.

Civil War Career

Began organizing a cavalry regiment, but did not end up in command of it.
Was appointed "Minister Plenipotantiary and Envoy Extraordinary to Spain" in 1861 because of his support for the Republicans
Returned to US from Spain in January, 1862 in order to lobby for the abolition of slavery
Was commissioned a brigadier general of volunteers to rank from April 15, 1862 (It is likely that Schurz wanted the position because he felt he could do more for the antislavery cause on the battlefield than he could in Spain. It is widely believed that Lincoln gave him this commission because Schurz was pressing him so on the slavery question, and that Lincoln did it to get Schurz out of his hair, as well as to appease the many Germans in the army who wished to be led by one of their own.)
Assigned to command a division of Frémont's army in the Shenandoah. This army later became Sigel's Corps in Pope's Army of Virginia, and later still became the XI Corps of the Army of the Potomac.
Led the division at the Battle of Second Bull Run, and helped cover the final retreat.
Was promoted to major general on March 17, 1863
Led the division at the Battle of Chancellorsville and is credited with recognizing the threat the Jackson might make on the Union right, even though the steps he took (turning to regiments to face the west) were hardly enough to keep the XI Corps from being overrun
Commanded the division at the Battle of Gettysburg, where it also got overrun as part of the unfortunate story of the XI Corps. He temporarily had command of the corps.
Went to the western theater when his division (along with the rest of the XI and XII Corps) was transfered
After the battle of Chattanooga, Schurz had a falling out with Joseph Hooker (commander of that army, and the Army of the Potomac at Chancellorsville) over a mix up in orders. An official court of inquiry exonerated Schurz.
Was assigned to a recruit depot in Nashville
Campaigned thoughout the North for Lincoln in 1864, at Lincoln's express wish.
Served as chief of staff to General Henry Slocum in the campaign through the Carolinas.

Post-War Career

Served as
Served in the Senate as a representative from Missouri, 1869-1875. He was thus the first German immigrant to serve in the Senate, which is the highest office to which a person of foreign birth can be elected.
As a campaigner, he had an important influence in every presidential campaign from 1860 to 1904
In opposition to Grant's administration, he attempted to form a third party, the Liberal Republicans in 1872. Somewhat in opposition to Schurz's deisres, the party nominated Horace Greeley for president. Greeley died soon after loosing the election.
Rutherford B. Hayes appointed Schurz to be Secretary of the Interior, the first cabinet post to be given to a German-American. The Interior department supervised the General Land office, the Pension Office, the Patent Office, and the Bureau of Indian Affairs, as well as many other offices of a wide variety of sorts.
Instituted the merit system and civil service tests as a basis employment in the Department of the Interior. Civil Service reform in the rest of the government became his most favorite cause.
Devoted the last years of his life to literary pursuits, pronouncements on public questions (he advocated equal rights of African-Americans, the end of the spoils system, anti-imperialism, and the preservation of the public domain, a low tariff, free trade, sound money, and justice for the Indian), and made occasional speeches. He was an editorial writer for Harper's Weekly for six years. He resigned from that position because of his strong stance against imperialism in 1900.
Was regarded as something of an elder statesman
Lived his later years in Pocantico Hills, New York and Augusta, Georgia, as well as in New York City.
Died in his home on 91st Street in New York on May 14, 1906. Was buried in Sleepy Hollow Cemetery, Tarrytown, NY.
Had written his autobiography up to the year 1869. It was finished with a biography written by Frederick Bancroft and William Dunning. The three volume book, The Reminiscences of Carl Schurz was published postumously.
His last words, whispered to his children, were, "Es ist so einfach zu sterben" (It is so easy to die.)

---

Links:

Wisconsin Authors and Their Works by Charles Rounds (originally published in 1918). From the Wisconsin Electronic Reader, at the library of the University of Wisconsin. Includes an excerpt from Schurz's Reminiscences. his speech entitled "True Americanism", and his speech from the Milwaukee Ratification Meeting of 1860. Also includes many pictures.

---

Sources:
Lonn, Ella. Foreigners in the Union Army and Navy (Baton Rouge: Louisiana State University Press, 1951)
Reynolds, Robert. "A Man of Conscience", American Heritage
Warner, Ezra. Generals in Blue: Lives of Union Commanders (Baton Rouge: Louisiana State University Press, 1964)